Greetings from all of us at Prevent Child Abuse Florida,
New Fiscal Year Projects!
As many of you are aware, Florida's fiscal year runs from July 1-June 30 of the next year, and since this is our first newsletter of this new year, I'd like to use this space to update all of you on what we'll be doing over the next several months.
One of the most interesting and exciting projects we'll be working on this year is what we are referring to as a "primary prevention app." Many of us have discussed this idea in previous years, which involved converting our Parent/Caregiver Guides into app form. Now, years later, we also realize there are many, many choices out there targeted to young parents or potential parents; some are free, some cost a few dollars. We will be taking this year to study this arena and will remain open to all possibilities, partners, and ideas. As such, we will be asking for your collaboration to make sure we pick the right path forward.
We'll start this process by conducting a survey to determine next steps. Our plan from there will be organic and realistic, according to the information and data we receive. We want to engage with partners now who may be willing to collaborate on the design, function, and overall content of the app, so if you or anyone you know has an interest in working with us on this exciting new project, please contact Chris Lolley at (850) 933-3271 or clolley@ounce.org. We will also be looking for potential vendors and funders willing to be involved early in this process.
We sincerely appreciate those of you who have already agreed to share the survey. We want to gather as much information as possible, so please feel free to share the link below with ANY parents you serve. We know we'll gain great insight from the parents of young parents, foster parents, clinicians, home visitors, nurses, pediatricians, grandparents, etc., but we specifically want to get data and information from young or first-time parents or soon-to-be parents.
Here is the link to share: https://www.surveymonkey.com/r/Q3XP6PW
The genesis of this project was the Families First Prevention Services Act (FFPSA). The FFPSA encourages states to employ evidenced-based strategies to prevent candidates for out-of-home care from entering foster care. FFPSA makes reference to strategies such as peer support groups designed to provide support to parents, or soon-to-be-parents, in care or having "aged out" of care. Florida has specific steps to follow to comply with the FFPSA, so we will make sure we are a full and willing partner in all these conversations!
Much is happening in the world of prevention these days, mostly still in secondary and tertiary prevention, but we believe there is hope for "moving upstream" over the coming years, so thank you all for your support and let's keep rowing upstream!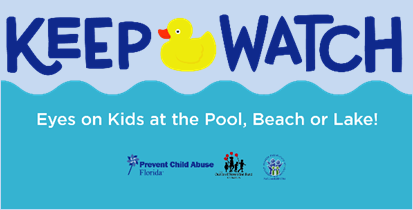 Keep Watch
Thanks for all your support during our "Keep Watch" campaign! With support from our partners at the Florida Department of Children and Families and the Florida Department of Health, we distributed over 2,500 water safety items in just over one month! We also ran our Water Watcher video in movie theaters across the state, targeting drowning "hot spots." We expect to garner over 1,000,000 impressions!
We still have "Learn to Swim" books with Stewie the Duck available for order on our website HERE. The books are free for anyone in Florida who wants to use them for events or to hand out at schools, childcare centers, or anywhere parents and children gather. Summer may be ending for North Florida, but let's not forget many Floridians and guests in our state will be participating in activities in or near the water for more months to come. Of course, drowning doesn't just happen in pools or the ocean; small children can drown in sinks, bathtubs, and even mop buckets. So, remember, supervision is key! ALWAYS keep your eyes on the kids when they are near or have access to bodies of water.
October is Safe Sleep Month!
As most of you know, one of our main areas of focus here at Prevent Child Abuse Florida is the promotion of Safe Sleep. Since the 1990s, pediatricians have been instructing caregivers and parents to place their children on their backs to sleep. This has resulted in a 50% DECREASE in sleep-related deaths since that time! Sadly, though, unsafe sleep is still the leading cause of death for children under age one in Florida. Our resources, available for order HERE, offer tips and advice for all caregivers on how to maintain a safe sleep environment for the children in their care.
In addition, we will also be posting two new podcasts related to Safe Sleep. The first, recorded with experts from the field, will be available wherever you get your podcasts and on our website by the first of October and the second will be published later in the month.
Other Resources
Our colorful and practical Parent Guides are available in English, Spanish, and Creole, and our other resources on Safe Sleep, Attachment & Bonding (PDF), and Coping with Crying (PDF) remain available as well. These are also provided at no cost, including shipping! So, order HERE!
Thank you all again, and please remember, let's PAY ATTENTION TO PREVENTION!